Can You Put a Normal Trampoline In The Ground?
An amazing way to get your kids to spend more time outdoors during the summer is to put a trampoline in the backyard. But, what if you don't have enough space in the yard to put the trampoline?
Keep reading to clear every single of your doubts and of course, get some bonus tips!
You've tried everything to get your kids to stop bouncing off the walls at home, but nothing has worked. You've heard about the benefits of trampolining for kids, but having it in your backyard is just not an option.
Don't worry. You can now get the benefits of a backyard trampoline without the inconvenience of having one! You can put a trampoline in the ground, but not a trampoline of every kind.
Can You Put a Normal Trampoline In The Ground?
Yes, you can put a normal trampoline in the ground. Although the more suitable option is to buy in-ground trampolines (also called underground trampolines) as they are safer and sometimes cheaper, you can still install your normal trampoline in the ground instead of buying a new in-ground one.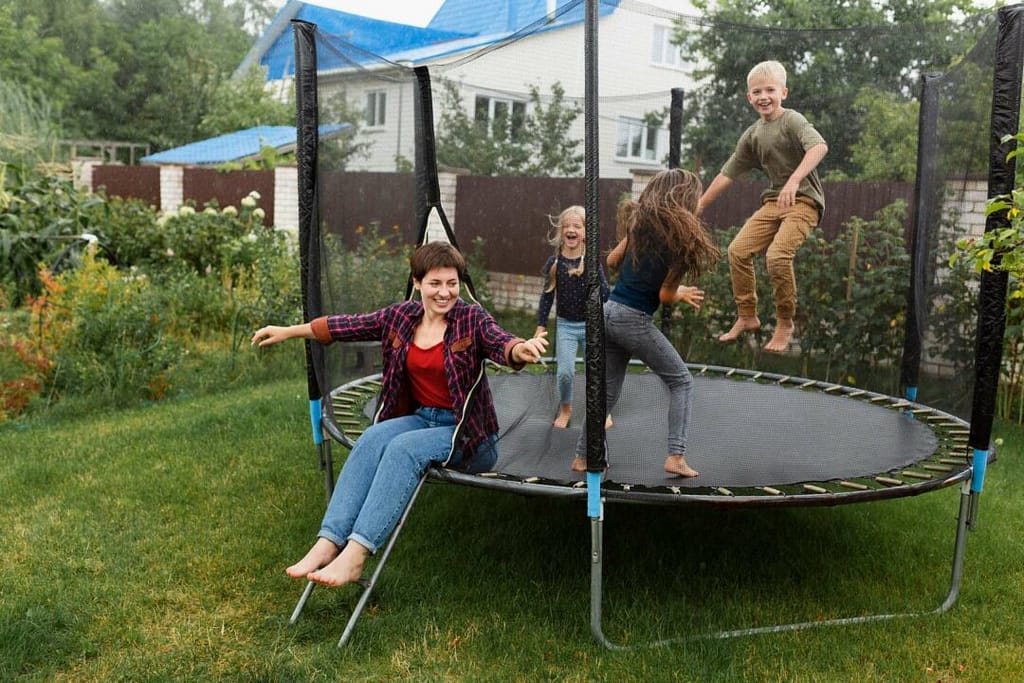 Why Put Trampoline in the Ground?
Some people believe that the trampoline should be all put on top of the ground or put the trampoline on the ground, but other companies say that the trampoline should be put in the ground to protect the structure of the trampoline. This is because some companies claim, the trampoline on top of the ground will eventually see that the ground will make the support cushioning (rubber mulch) of the trampoline soft, which makes it more unsafe.
When you put the trampoline in the ground it does not affect the trampoline's performance because the support cushion padding is not giving way.
Where Do You Put the Trampoline?
Find a suitable place on your lawn or backyard to put your trampoline there.
In the summer, it is always great to have an outside activity to keep children busy! This is why trampolines are excellent, but the only problem is where to put them without ruining the lawn. Many people solve this issue by putting their trampoline on their driveway or near the sidewalk, but now there is another option! You can now put it in the ground.
You might start wondering, How to Install a Trampoline in the Ground! Here it is:
How to Put a Trampoline in the Ground?
You'll need to take some steps to make sure the trampoline is as safe as possible.
The first step is Setting up the Lawn for the insertion of the trampoline. Make sure there's a strong base of soil where you want to put the trampoline.
You should dig a hole that's slightly wider than the measurement of your trampoline and deeper than the extent to which it can go down.
Measure the Dimensions of a Trampoline. As different trampolines have different values, you should make sure that your measure is suitable for the trampoline to be placed in the hole with some extra space.
The extra space will help evacuate the air in the area below the trampoline and will be useful for a more viable bouncing experience. 
If you're not confident in your digging skills, try hiring a professional excavator or a contractor to supervise the project. If you're going to a store that specializes in trampolines, they will have a hole for you to put your trampoline in, but they will price match for a hole you dig yourself.
Next, place a flat base on the ground so the post isn't leaning. You should ideally have another person help you do this, but it can be done by yourself.
If the soil is unstable, you may want to put down wood, plastic, or metal sheeting to keep the dirt from going through. A trampoline can be used on a lawn, but it may rust on the ground, so you may want to consider digging a hole first.
Finally, when you've placed the trampoline in its new position, it's time to (optionally) attach the safety net of your choice since it's a little above the ground.
This is the Process of Putting Trampolines in the Ground. Wondering How Long Does It Take To Put a Trampoline Together?
Do Trampolines Need a Safety Net?
For some people, the safety net isn't necessary. For others, it is. We all know that young kids think of new and creative ways to use their trampoline, the safety net helps the new creative kids enjoy the trampoline so their parents can also enjoy it. 
But are Normal Trampolines inground the best choice?
It depends. If you already have a normal trampoline, then you should save your money and problem to get a new in-ground trampoline and dig out a hole simultaneously. Placing a normal one in a hole should do just fine. However, if you've yet to buy a new trampoline, then an in-ground trampoline is your best bet.
What are In-Ground Trampolines?
In-ground trampolines are fixed by inserting a steel frame in the ground and creating a protective enclosure so the springs and frame do not get damaged.
An in-ground trampoline can provide a more sturdy and durable frame and an enclosure largely protects the frame and springs from the sun and rain. 
These trampolines are better than ordinary ones, and they provide a surface for home basketball courts and other forms of athletics. They can hold as many as three times as many people as their counterparts, and they offer a bouncier, more comfortable surface for those who utilize them.
At first, I didn't believe it was true. But after contacting our local trampoline installer, I found out that it is possible to put a regular size trampoline in the ground. The kids will love it! Your friends will love it! Everyone will love it. Just wait until you see how much fun this is!
Benefits of In-Ground Trampolines
Benefits of One benefit to putting your trampoline in the ground is it won't fall over and hit your head. Another benefit is it will be easier to protect and cover your trampoline because the sleeve will stop the grass and weeds from coming up.
Another benefit of a ground trampoline is if the netting breaks, it will be easier to replace. You can easily fit it in your backyard and it's affordable too!
It is the most enjoyable way to get your kids to stop bouncing off the walls that you can avail themselves winstrol depot stanozolol of.
These can also be cheaper than the collective cost of normal trampolines as renovating the yard has the potential to load the budget. It doesn't have to be that way. Trampolines are expensive, but you can buy a cheaper but reliable version that may be better because when buying trampolines, you should prioritize quality over cost.
Safety Precautions
Everything has its pros and cons and so does the trampoline!
The ground sleeve/ring of an in-ground trampoline will blow about or move around sideways if you blow too hard or it's windy, which is one of the reasons I suggest getting a heavyweight for the bottom of the sleeve to weigh it down. Also, if you're tight on space, this will allow you to always have the floor the same height for other things, like kids or pets.
How Long Does It Take To Dig a Hole for a Trampoline?
The idea of putting a trampoline in the ground is really fun, but it's hard to know how to do it as it's also time-consuming. The time it takes to put a trampoline in the ground depends on your ability to sort things out. It can take from several hours to even a couple of days.
The progress can be boosted if you're willing to pay for it to someone who is experienced and performs similar tasks daily.
Conclusion
Putting a normal trampoline in the ground is a great idea to amuse your kids and guests alike. It's also good from an economic point of view but the in-ground trampoline is an even better choice.
Put a trampoline in the ground and then place chairs around it for a perfect place to entertain guests and let your children enjoy themselves to the fullest.